2015-07-17

We've gotten some questions about the webshop and it IS coming. We have some merch that should interest you, it just take a little longer than desired to get it up and running. It will be up soon though (and it'll be mentioned here in the news section when it is).

2015-06-27

Check out the interview Sjoberg did with Theron Moore for the Wormwood Chronicles webzine here!

2015-06-19

Ripple Music are celebrating their 5 year anniversary by offering a 24 track digital compilation on their bandcamp. Our song "Scorpio Queen" is featured on it. Check it out here or you can find out more about it in our discography section here!

2015-06-11

Another great review added to the Mondo Satan review page. This time from the UK webzine Collective Zine. Check it out here!

2015-06-03

It might look like not much is happening with the band this close after the release of our second album, but we are right now in the middle of trying out drummers for the first step to get a complete line-up again. Then there will be some guitarist try-outs and we have a couple of guitarists lined up for that already. When things are getting stable with the line-up we will start working hard on preparing both for live shows as well as new recordings. Stay tuned for more garage rock goodness!

2015-05-27

Finland has just been added to the countries where our "Mondo Satan" album is available. You'll find the link to "Recordshop X" through the album's discography page. Hyvä Suomi!

2015-05-20

Another review added to the Mondo Satan review page, and it's a glowing one!
Also, Record Heaven (Sweden) added to the list of sellers that have "Mondo Satan".

2015-05-13

Another review added to the Mondo Satan review page. This time from the Italian magazine Rumore. The review is in Italian, so we're gettin some help translating it. We don't need to understand Italian to see we got a 7 out of 10 though!

2015-05-10

A review added to the Mondo Satan review page.

2015-04-30

Spotify link added to the Mondo Satan discography page (as well as the first album's page), and more reviews for Mondo Satan added to the album's review page.

2015-04-29

We added two reviews to the Mondo Satan section and a seller in Switzerland (cede.ch) that sells both of our albums. You can find the link to that seller through either album's page in the discography section.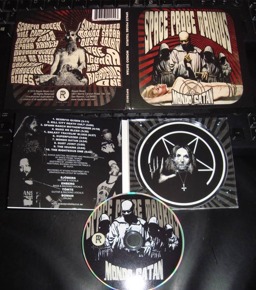 2015-04-28

Welcome to the brand new official SPACE PROBE TAURUS website!

It's been many years since we had a real website, so this feels good.
The webshop will be up and running as soon as possible as we have merch, records etc for sale. And the links section will be updated soon with a whole bunch of new links.

And of course, we're unleashing this website just in time to celebrate the release of our second album - "MONDO SATAN"!!!
Click the image above this news section to find out where you can get your copy of the CD! Or, check out the discography section and the Mondo Satan page to find where to order the CD from in your country.

As of now the list of countries you can order the CD from are:
Sweden, USA, Germany, Switzerland, UK, Japan, France, Hong Kong, Spain, Ireland, Canada, Hungary, Netherlands,Slovenia, Denmark, Czech Republic, Slovakia, Australia and New Zealand. This list might grow and we will add to it whenever we know of any new sellers or countries.