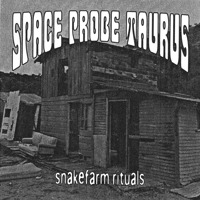 Slave to Metal e-zine (SWE - website) Spring 2003

"The Karlstad groovers in Space Probe Taurus had the good taste in sending me a CD with 9 tracks for a review. Their glorious\
70's groove with it's roots in the stonerrock is probably made to try and get up on the same level as The Awesome Machine and bands like that. They will also totally succeed in that. They really rock on all 9 songs, the kinda way you could call "club hardrock". This is the kind of music you should listen to with a cigarette in your mouth, a beer in your hand and the stereo turned up really loud! Totally brilliant! A must for People Like You."

(This is a review of a disc that contained both the "Sounds from the Barefoot Mountain" and "Snakefarm Rituals" demos)

Daniel Eriksson

Stonerrock.free.fr (FRA - website) Spring 2003

"Some may regret with dissolutions and DEMON CLEANER RIDGE and sobering FU MANCHU, the disappearance of a certain kind of stoner NEBULA only seems able to continue. Well, they can rest assured! For the SPACE PROBE TAURUS Swedish are made for them. One finds in their music all the revenues of the FU MANCHU stoner / NEBULA: the fuzz "do you want in here," declaimed as sung a song (usually I do not like, but this is really well done) and to top it all, some punk hints.

All sounds really good, especially the second demo which marks a real change for the group. Although it is known that the group already has some recordings to his credit, we say that the time has really come for them to record a real first album, especially as the quality of these demos, precisely because whether demos, lacks a little relief."

(This is a review of a disc that contained both the "Sounds from the Barefoot Mountain" and "Snakefarm Rituals" demos)

Translation from French to English courtesy of Mr. Google Translate...

Alain Petit

Hellridemusic.com (website) Summer 2003

"These guys have been damaging the hearing abilities of Swedish crowds since 1997, but their recorded material, aside from one 7", has been mostly regulated to various compilations and self-released demos. Kinda sucks, the broader world would enjoy a little Space Probe Tarurus now and again.

If you liked the American-bred East Coast psychedelic fuzz of the late 60's and early 70's, Space Probe Taurus would be right up your alley. Absolutely nothing new or innovative, but these five songs are the kind of hard-charging, hook happy and bottom-end worshiping tunes that Nebula used to write back in the Sun Creature and Let It Burn days. Guitars, bass and percussion on overdrive, the band on windowpane or purple jesus, the whole thing wrapped within songs that project energy and rock abandon. Definitely won't change the world, but it may make your stay on this planet a bit happier, if only for 20 minutes or so."

Chris Barnes

G.L. Productions (SWE - website) Summer 2003

"Standing next to the barefoot mountain looking at the SnakeFarm Rituals. SPTs demodisctravels continues, the question is why is it so hard to convince the labels that this combo deserves a deal, they are more ripping than Hellacopters, more rocking than The Hives and more spaceload tripping than MonsterMagnet are nowdays.

These guys got the beat that is damn sure, a dancing madly grooving beat that hits the nail on the head. SnakeFarm Rituals proves it, I dont which demo in numbers this is, its been a few since the first one back in 97. 5 fuzzrock anthems are delivered here, with strong vocals, excellent twin guitarwork and a hammering backing section along with some spooky cosmic overdubs. It rips, it rocks, it shakes, it twists the material. The last one had Minds Eye, that was the heavy number right there, this one have a more tripping attitude all over the line. There is also a awesome late 60s garage feel over the soundpicture over this disc and a tight and wellmade production.

SPT have made another solid piece of work, their following will progress with SnakeFarm Rituals and for those who havent checked this combo out, you will get into it on the cause of the material, its simple, it have hooks and this combo dont settle for less."

Gabriel Lilliehöök

Daredevil.de (GER - website) June 2003

"I first heard of these guys about two years ago when I received their 7inch "Insect City" (Game Two Records) and I was really impressed by these three Swedish guys from Karlstad. Now I listen to "Snakefarm Rituals" and these songs are much stronger then the ones on the 7". Think of a harder Blue Cheer...and if you know 500 Ft. Of Pipe you sure will dig the stuff of SPT.

This is Kick Ass, this is psychedelic...this music is just good and spreads good vibes. The sound is really fat and powers out of the speakers like a tuned GTO...damn Sweden...hahaha. Really groovy and rockin´ stuff, also the spaced out overdubs are damn cool and spreads a lot of this freaked out 70´s feeling."

RB

Cosmic Lava (website) July 2003

"SPACE PROBE TAURUS (Snakefarm Rituals) MCD-R: When I talked to Richard Anasky (director of I Am Vengeance) last year, he was full of praises about this Swedish band, not only because of making a video-clip with them. Since the band was formed in 1997, they've released a couple of demos, one 7" on Game Two Records and different songs on numerous compilations.

My first introduction into the world of SPT was their cover-version on the Blue Cheer tribute compilation "Blue Explosion" and the song for the first I Am Vengeance soundtrack. But nothing impressed me that much, until I received this promo. It's not that difficult to describe the sound of SPT. Just take the Stooges, Hawkwind, Blue Cheer and early Hellacopters and you've got it. And the best of this mix is, though nothing new, that this band knows to write excellent remarkable songs. Sometimes a bit more psyched-out ("Molten Lava") but still explosive and hard rockin are all of the included five songs. "Snakefarm Rituals" is something like a inspiring acid fuzz-feast, fronted by vocals that are very close to Nicke Anderson of the Hellacopters.

SPT are one of the better bands among all the other fuzz-rockers and I hope, they will be signed soon by any cool label. Meanwhile, I give you the advice to order "Snakefarm Rituals" from the band on the SPACE PROBE TAURUS Homepage."

Tangerinemagazine.com (website) Autumn 2003

"I first heard of these guys about two years ago when I received their 7inch "Insect City" (Game Two Records) and I was really imperssed by these three Swedish guys from Karlstad. Now I listen to "Snakefarm Rituals" and these songs are much stronger then the ones on the 7". Think of a harder Blue Cheer...and if you know 500 Ft. Of Pipe you sure will dig the stuff of SPT.

This is Kick Ass, this is psychedelic...this music is just good and spreads good vibes. The sound is really fat and powers out of the speakers like a tuned GTO...damn Sweden...hahaha. Really groovy and rockin´ stuff, also the spaced out overdubs are damn cool and spreads a lot of this freaked out 70´s feeling."

Glenn Tillman

Noizeitalia.it / Perkele.it (website) Autumn 2003

"Karlstad has to be really an amazing city: the place of origin of stoner bands like Lowrider, Souldivider, Sparzanza Ozium and is also the place that welcomes three friendly freaks like Space Probe Taurus. "Snakefarm rituals" is their promo yet another (and you do not understand at all why still no label will be aware of them ...) after having published a 7 "on Game Two Records in 2001 (" Insect city ") and have took part in "Blue Explosion" (tribute to Blue Cheer published by Black Widow) with a rousing version of "Second time around" (is, for the uninitiated, the colossal "Vincebus Eruptum").

In this CD of five pieces Sundler, Sjoberg and Eronen we propose a assatanato sonic assault that fishing in part by the fuzz rock from space Nebula and especially heavy rock of the early Monster Magnet, the most bombastic, garage and astral just to be clear. Such determination is then put to the service of shrapnel piercing and fast, melodic enough to trigger a pogo raged in the middle of the cosmos ...

The initial "Levitation" is the full proof of what was said: flaming guitars, vocals vitriolic in style Dave Wyndorf and solos that follow without any stop. "Molten love" has a beginning dilated that calms down immediately to explode in a whirl of distortion and jitter by irresistible groove, and "Blow" perverse uses a melody that intertwines perfectly with a truly wild drumming. Thundering guitars continue to rage in "Catch the Poenix slowdown", an episode that mixes vocals filtered to Monster Magnet with fuzz giant, did listen to the best in the entire disk. A closes the dances thinks "Searchin '", another tangle stoner rock from plots mellifluous and the performance garage.

So many good vibes continue to come from Sweden and Space Probe Taurus are no exception: stoner nth degree and for us greedy for these sounds can only be a pleasure ..."

Translation from Italian to English courtesy of Mr. Google Translate

Alessandro Zoppo