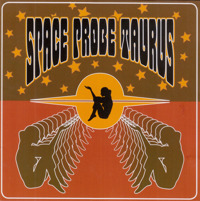 Metalcentral (SWE - website) May 29th 2008

"When SPACE PROBE TAURUS (whose name is taken from an old sci-fi flick with the same name) presses down on their beloved fuzz pedal and kicks their groovy and dirty garage rock into high gear you're torn a couple of decades back in time and lands somewhere between an acid drenched late '60s/early '70s with all of its grooviness, coolness and charm. Mainly inspired by the psychedelic rock from the '60s and instrumental music from the biker movies of the same era and bands like THE STOOGES, MC5, BLUE CHEER and the more recent MUDHONEY the members of the band give the finger at all polished and over produced current metal and radio rock. They call their own music "acid fuzz rock" an name as good as any.

I also think of MONSTER MAGNET, HELLACOPTERS, GLUECIFER and in a way a speeded up version of BLACK SABBATH from the '70s when I enjoy the dirty riffs, the great drive and the vocalist Sjöberg's for the genre perfect vocals. The song list is, of not beyond awesome, somewhere between ok and really good. The faster tracks "Barefoot" and "Electric Explosion", the chorus heavy "Levitation" and the semi-slow and subtly grooving "Psi-Burn" belong to the albums highest level. The absolute best, if you ask me, is the explosion that is "Supersonic Woman with its attitude heavy verses and nicely shaped chorus. The chorus parts are something the TAURUS-gentlemen know very well how to make. And also adding some genuine feeling and attitude to their creations. Fuzz on!"

Erik Arvidsson

Music in Belgium (BEL - website) June 24th 2008

"Le label Buzzville a de nombreuses qualités : il est belge et défend la propagation d'un stoner de très bon aloi. C'est plus qu'il n'en faut pour attirer l'attention dans un pays où le stoner a toujours bonne presse et où des associations comme Orange Factory organisent sans relâche des concerts qui ravissent les amateurs du genre. Buzzville a déjà à son actif des groupes commeCowboys and Aliens ou Artimus Piledriver. AvecSpace Probe Taurus, la ligne éditoriale du label est maintenue dans la direction d'un stoner classique, bien épais et qui rappellera des références comme Monster Magnet, Spiritual Beggars, Honcho ou Fireball Ministry.

Le groupe remonte déjà à 1992 où il sévissait sous le nom de Snake Machine. Il devient Space Probe Taurus en 1997 quand le groupe passe d'un space rock à un stoner beaucoup plus direct. Originaire de Karlstad en Suède, Space Probe Taurus a connu de nombreux line-ups mais s'est finalement stabilisé en décembre 2003 autour de ses membres fondateurs, Sundler et Sjöberg. Plutôt avare en productions, Space Probe Taurus n'avait jusqu'à présent qu'un EP à son actif, ainsi qu'une présence sur un CD de reprises de Blue Cheer. Son premier album remonte en fait à 2005 mais est distribué en Belgique par Buzzville cette année. Ceci réconfortera les amateurs de stoner dégoulinant de fuzz et de vocaux rugueux hérités de Blue Cheer.

Pour les amateurs de cinéma, Space Probe Taurus est également associé à des musiques de films improbables signés Richard R. Anasky, un type qui ferait passer Russ Meyer pour Orson Welles tant ses oeuvres sont déchirées à coups de porno soft, d'underground paranoïaque et de mauvais goût roboratif. Le monde occidental lui doit en effet des chefs-d'œuvre comme "Actress apocalypse" (2005) ou "Hollywood she-wolf" (2006). Quoi de mieux que du bon gros stoner astral pour coller à un film déjanté qui a déjà passé la barrière du rationnel?

Bref, prenez une bonne Harley Davidson, quelques packs de bière dans la besace et filez plein gaz vers l'Ouest avec Space Probe Taurus dans les oreilles. Vous y rencontrerez des légions de bikers cosmiques, des go-go danseuses sorties d'un film de Tarantino, vous tripperez à la recherche d'Hendrix au milieu de champs de champignons hallucinogènes et vous reviendrez dans vos usines, écoles ou bureaux préférés avec la lueur de ceux qui ont été tutoyer les anges dans la galaxie électrique."

Google Translate says:
"The Buzzville label has many qualities: it is Belgian and defends the propagation of a stoner very good quality. This is more than enough to attract attention in a country where the stoner always good press and where associations like Orange Factory tirelessly organizing concerts that delight fans of the genre. Buzzville already has to his credit groups like Cowboys and Aliens or Artimus Piledriver. With Space Probe Taurus, the editorial line of the label is maintained in the direction of a classic stoner, thicker and remind references like Monster Magnet, Spiritual Beggars, Honcho or Fireball Ministry.

The group goes back to 1992 when he was raging as the Snake Machine. It becomes Space Probe Taurus in 1997 when the group moves from one space rock in a much more direct stoner. A native of Karlstad in Sweden, Space Probe Taurus has seen many line-ups but eventually stabilized in December 2003 around its founding members, and Sundler Sjöberg. Rather stingy productions, Space Probe Taurus had so far only EP to his credit, as well as a presence on a CD of covers of Blue Cheer. His first album dates back to 2005, but is distributed in Belgium by Buzzville this year. This will comfort fans of stoner fuzz dripping and rough voice inherited from Blue Cheer.

For movie lovers, Space Probe Taurus is also associated with the music of films by Richard R. Anasky, a type that would raise Russ Meyer for Orson Welles as his works are torn to death with soft porn, paranoid and underground tasteless invigorating. The Western world owes him indeed masterpieces as "Actress Apocalypse" (2005) or "Hollywood she-wolf" (2006). What better than the big fat astral stoner to stick to a crazy movie that has already passed the sound barrier?

In short, take a good Harley Davidson, a few packs of beer in the bag and whisked full throttle towards the West with Space Probe Taurus in the ears. You will meet bikers cosmic legions, go-go dancers outputs of a Tarantino movie, you tripperez looking for Hendrix among fields of hallucinogenic mushrooms and you will return to your factories, schools and offices favorite with light of those tu angels in electrical galaxy."

François Becquart

Daredevilrecords.de (GER - website) July 2nd 2008

"Acid Fuzz Rock from Sweden you will get from ex-Snake Machine (1992-1997), which are now SPACE PROBE TAURUS. The sound is compared with bands like Mudhoney, Hellacopters, Stooges, MC 5, NEBULA and a little FU MANCHU. The opener DIG THE LIZARD is a fast forward dirty rock song in the veins of THE HELLACOPTERS or GLUECIFER, with some Fuzz Rock elements. BUZZ AMP, ELECTRIC EXPLOSION and SNAKEBIRTH are that direction. And it will give you the typical sound. It would be a boring record, if not the other tracks like MOLTEN LAVA (with a great Stoner Rock beginning), BAREFOOT (the typical Stoner touch again, but with a lot of drive!) or the mighty and slower PSI-BURN, which is a great groove monster with excellent vocal lines. This track is the highlight on that record in my eyes. Sounding like a good Stoner Rock song, written in the best Stoner Rock years, back in 1998-2000. SUPERSONIC WOMAN rocks too and LEVITATION give you the classic psychedelic input, which made NEBULA huge. The last track (bonus track) called SHE-WOLF, BABY is taken from the movie HOLLYWOOD SHE-WOLF. Cool. All in all a record which makes a lot of fun and sounding fresh if you not expect a new influence for the Stoner Rock scene. Good record, this sound will work on stage definitely."

Jochen

Stage Magazine (BEL) July 2008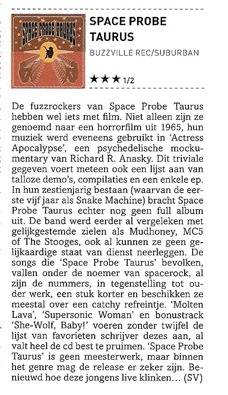 Rock Tribune Magazine (BEL) July 2008
W-Fenec (FRA - website) July 4th 2008

""Acid fuzz rock" clame haut et fort la page MySpace... forcément il était donc écrit que Space Probe Taurus, ça devait fuzzer, ça devait rocker et faire parler la poudre pour réchauffer la température lors des longs hivers scandinaves. Alors en plus signé chez Buzzville Records, inutile de dire qu'aussitôt réceptionnée, la galette a terminé sa course dans le mange-disques. Verdict ? Oui ça rock, oui ça fuzz et oui, ça fait balancer la tête comme un demeuré qui saute sur son canapé pour partir dans une improbable démonstration de hair-guitar acrobatique. "Dig the lizard", des guitares qui claquent dans les tuyaux, des mélodies faciles, farouchement rock'n roll et irrémédiablement addictives. Non, ce n'est pas cette fois que Space Probe Taurus réinventera le genre, mais ce que les suédois font, ils le font foutrement bien. "Buzz amp", "Molten Lava", "Barefoot", "PSI-Burn" coulent tranquillement sur la platine, balançant leur groove énergisant et dégoulinant de fuzz le long des rythmiques aux tentations terriblement punky. Du rock aux tendances stoner et au feeling typiquement scandinave d'un Honcho, des plans psychédéliques à la Stone Wedge, des résurgences d'un Hoek qui aurait copulé avec les Spiritual Beggars pendant que les Cowboys & Aliens filmaient le tout afin d'en envoyer le contenu, hautement scandaleux, sur YouTube. Riffs taillés dans la même écorce que les Fu Manchu, relents 70's à la Wolfmother, SPT joue la carte de l'efficacité outrancière, mais rien à redire, ça fonctionne à pleins tubes du début jusqu'à la fin. Atmosphère enfumées, production garage rock, les suédois livrent un album dégrossi à la tronçonneuse et poli à coup de whisky pur malt. Forcément, ça sonne parfois assez roots mais c'est le but. Let's go for the ride semble dire Space Probe Taurus et après une "Electric explosion" bienvenue, le groupe nous emmène pour un road-trip aux effluves narcotiques et au groove salvateur comme pas eux. Un truc quand même : si ça ne te mets pas un bon gros coup de boost au réveil, c'est sans doute qu'on ne peut plus faire grand chose pour toi..."

Google Translate says:
""Acid fuzz rock" proclaims loudly MySpace page ... obviously so it was written that Space Probe Taurus, it was fuzzer, it had to be talked rocker and the powder to warm temperatures during long Scandinavian winters. So in addition signed to Buzzville Records, needless to say that as soon as received, the cake has finished his race in the disk-eating. Verdict? Yes it rock, yes it fuzz and yes, it's been swinging the head remained as a jumping on her couch to go in an unlikely acrobatic demonstration hair-guitar. "Dig the lizard", guitars banging in the pipes, easy melodies, rock and roll and irreparably fiercely addictive. No, not this time Space Probe Taurus reinvent the genre, but what the Swedes do, they do it damn well. "Buzz amp", "Molten Lava," "Barefoot", "PSI-Burn" quietly flowing on the plate, swinging their energizing and dripping fuzz groove along to the rhythmic terribly punky temptations. Stoner rock trends and typical Scandinavian feeling of Honcho, psychedelic plans in Stone Wedge, resurgences of Hoek would have copulated with Spiritual Beggars while Cowboys & Aliens filming everything to send content, highly scandalous, on YouTube. Riffs cut from the same bark as Fu Manchu, hints 70's to Wolfmother, SPT opts for the outrageous efficiency, but nothing bad, it works at full blast from start to finish. Smoky atmosphere, garage rock production, delivering an album sided Swedish chainsaw and polished shot of malt whiskey. Inevitably, it sometimes sounds quite roots but that is the goal. Let's go for the ride seems to say Space Probe Taurus and after "Electric explosion" welcome, the group takes us on a road trip narcotic scent and saving groove like no other. One thing though: if you do not put yourself a good wallop of boost in the morning, it's probably that we can not do anything for you ..."

(The) AureliO

The Ripple Effect (USA - website) July 18th 2008

"I don't know about you, but it's always pissed me off that Meatloaf's "Bat Out of Hell" album sounded nothing like the album art. I mean, here we got this freakin' amazing Richard Corben painting of a muscular long-haired Adonis biker rocketing outof the confines of Hell aboard his skull-faced, quadruple exhausted hog from Hades, and inside we get. . . "Paradise by the Dashboard Light?" Not to be knocking the Meatster (ok, maybe a little) but Jim Steinman's quasi-operatic bombasts about love and teenage angst hardly warrant a cover that vicious. I mean, how much of a disconnect can you have?

But don't worry, oh waverider, I've found the real album that cover was meant for.Blasting out of their own version of an acid-drenched Hell, Space Probe Taurus is a full on assault of methed up, fuzzed out, biker garage rock, brimming with enough muscle and punk energy to be deemed worthy of Corben's masterpiece.

Coming from our favorite musical Mecca of Sweden, and signed to Buzzville Records, the SPT boys ask one simple question, how much fuzz can you take in your rock? Ramrodding their beastly songs right down your throat, SPT are some ungodly mix of Stooges energy, MC5 attitude, Mudhoney riffs and enough fuzz pedals to fill a fleet of 18 wheelers, this is Steppenwolf for the new millennium, maxed out, fuzzed out garage rock for the open highways.

Quality songs like "Dig the Lizard," "Molten Lava," and "Psi-burn," come at you like some freakishly distorted Fu Manchu/Blue Cheer hybrid, having ditched the Fu boys skateboards and surfer vans for quadruple exhausted hogs from the river Styx. Heavily influenced by the heavy psych scene as it evolved into proto-metal, this is biker rock on acid, Harley riders from Hell. Meaty and muscular, methed and maxed out rock and roll.

Bursts of fuzzed-out stoner metal like "Levitation," rock as hard as anything you'd ever want blaring in your ears. "Electric Exploson," is just that, a freaking explosion tempered through rows of Sjoberg's and Eronen's effects pedals. Through the walls of fuzzed riffs, drummer Sundler keeps time like some demented Keith Moon. Pounding with all eight arms and legs, he keeps pace more with his massive fills and dropped beats than any standard 4/4 drum lesson. Meanwhile, bassist Enberg must amputate a couple of digits with each song.

While the boys experiment with dynamics, a few slow passages to break the assault, this is essentially a full-open throttle blast of garage fuzz. That means that at times, the songs get a bit repetitive, but don't worry, they never lose their bite. It's just pure, balls out rawk and roll fun.

Do yourself a favor and give this beast a ride and flip Meatloaf off as you pass him by."

Racer

Desert-Rock-com (FRA - website) July 2008

"Sortez le cuir et le chopper, c'est parti pour un tour à la Easy Rider. Dès les 1ers accords on se voit déjà en train de chevaucher une belle cylindrée aux côtés de Dennis Hopper et Peter Fonda.

Les effluves de fuzz émanent de la concentration de bikers dans votre lecteur et les assauts furieux de la section rythmique vous rappellent – non sans innocence – le métal de Detroit où sévissaient les furieux du MC5 et des Stooges. On retrouve sur cette plaque les meilleurs élans de Monster Magnet et les soli exécutés avec une dextérité remarquable pourront croiser le fer sans rougir avec un certain Ed Mundell.

Ce groupe n'en est pas à ses débuts: formé en 1992 initialement, après plusieurs albums, apparitions sur des compiles entre labels et autoprods, SPT vient de planter la tente sur le terrain des Belges de Buzzville Records qui, à nouveau, nous offrent ici une toute belle signature. On les saluera au passage.

Le fût est en perce et la fuzz coule à flots. On perçoit ça et là des passages en son clair agrémentés de flanger et les atmosphères psychédéliques qui en découlent nous invitent à troquer la fuzz contre le buzz le temps d'un moment de répit. Mais que cela ne dure pas trop longtemps car la machine monte à nouveaux dans les tours pour nous livrer des riffs incisifs et débridés au son du moteur fonctionnant à plein régime.

Chaque fin s'accompagne d'une odeur de gomme et l'on devine les burns en série pour conclure les titres qui s'avèrent de qualité égale tout au long de l'album. Ca vole haut, ça roule vite et ça tient la route à mort. N'oubliez pas votre casque."

Google Translate says:
"Pull out the leather and chopper, we go for a ride to the Easy Rider. From the 1st agreements we already see being a good engine overlap opposite Dennis Hopper and Peter Fonda.

The smell of fuzz emanating from the concentration of bikers in your drive and the furious assaults of the rhythm section remind you - not without innocence - metal-ridden Detroit furious MC5 and the Stooges. Found on this plate the best impulses of Monster Magnet and soli executed with remarkable dexterity will cross swords without blushing with some Ed Mundell.

This group is not in its early stages: initially formed in 1992, after several albums, appearances on compilations from labels and autoprods, SPT has the tent on the ground Belgians Buzzville Records which again offer us Here a very beautiful signature. We salute them in passing.

The barrel is drilled and fuzz flowing freely. We perceive here and there in the clear passages embellished flanger and psychedelic atmospheres arising invite us to trade against the fuzz buzz time for a break. But it does not last too long as the machine goes up to new tricks for us in delivering incisive riffs and unbridled in its engine running at full speed.

Each end is accompanied by a rubber smell and we guess the burns in series to conclude the titles that prove of equal quality throughout the album. It flies high, it runs faster and it holds up to death. Do not forget your helmet."

Thib

Helldriver Magazine (GER - website) July 2008

"Die schwedische Psycho-Rock-Combo Space Probe Taurus besteht bereits seit 1992. Der Gründungsname lautete allerdings Snake Machine. Nach mehr als 10 sehr bewegten Jahren und etlichen Besetzungswechseln wurde 2003 ein Schlussstrich gezogen. Die Herren Sundler und Sjoberg, die als Letzte von der Urbesetzung übrig geblieben waren, formten praktisch eine neue Band, nannten sie Space Probe Taurus, und seither scheint es bergauf zu gehen. Das aktuelle Album ist vom Cover her schon mal recht trippig und nimmt den Hörer über fast die gesamte Spieldauer mit auf eine Zeitreise in die späten Sechziger. Psychdelic- trifft Fuzz- und Stoner-Rock (wobei sich die Jungs entschieden dagegen verwehren, als Stoner Rock bezeichnet zu werden…). Das Ergebnis klingt wie Mudhoney voll auf Drogen beim Jammen mit Deep Purple, oder so ähnlich. Tatsächlich hört sich das wirklich so an, als ob die Platte beim Jammen und Experimentieren im Proberaum aufgenommen wurde. Womit wir bei der ganz großen Stärke von "Space Probe Taurus" wären: Das Songwriting. Leicht vertrackt, abwechslungsreich und mit vielen Höhepunkten bewaffnet, bohren sich die 11 Stücke ins Ohr. Besonders zu erwähnen sind hierbei "Dig The Lizzard", welches die CD schön dreckig eröffnet, außerdem "Buzz Amp", das ein bisschen nach Corrosion Of Conformity klingt, und das verschoben rockende "Snakebirth", welches mit einer sehr geilen Spannungskurve aufwarten kann. Allerdings können nicht alle Stücke dieses Niveau halten, und man muss beim Hörgenuss neben vielen Highlights, die durchaus in der Lage sind begeistern zu können, auch einige musikalische Niederungen in Kauf nehmen. Ansonsten wäre das eine richtig feine Scheibe. 5.5/7"

Google translate says:
"The Swedish Psycho-rock combo Space Probe Taurus has existed since 1992. However, the foundation name was Snake Machine. After more than 10 years and very moving several line-up changes, a final line was drawn in 2003. The gentlemen Sundler and Sjoberg, who had left last in the original line, formed practically a new band called Space Probe Taurus, and since then it seems to go uphill. The new album is from the cover here seem quite trippy and takes the listener through almost the entire game on a journey through time in the late sixties. Psychdelic- meets fuzz and stoner rock (where the guys decided not to deny, to be called stoner rock ...). The result sounds like Mudhoney fully on drugs, jamming with Deep Purple, or something like that. In fact, it really sounds as if the record was recorded for jamming and experimentation in the rehearsal room. Which brings us to the big strength of "Space Probe Taurus": The songwriting. Slightly dodgy, varied and armed with many highlights, the 11 pieces drill ear. Particularly noteworthy are here "Dig The Lizzard" which opens the disc very dirty, also "Buzz Amp", which sounds a bit like Corrosion Of Conformity, and moved rocking "Snake Birth" which boasts a very horny voltage curve. However, not all pieces maintain this level, and you have the listening experience among many highlights that are quite capable to inspire you to take some musical lowlands in purchasing. Otherwise it would be a really fine disc. 5.5/7"

CJ

Aural Innovations #40 (USA) September 2008

"Space Probe Taurus began life back in 1992 as a jamming space rock band called Snake Machine. With a shift to more song oriented stoner rock in 1997, they changed their name and blasted out onto the scene with an EP release and contributions to several compilations and even scored a song on an underground film. This is their first full-length album. Inspired by 60's garage rock like Blue Cheer and MC5 and the kind of music you'd hear in biker movies, but with a slightly psychedelic edge, Space Probe Taurus reminds me of bands like Fu Manchu and Nebula. The songs are tightly composed and catchy, but are always hard rocking, with nice and dirty, totally fuzzed out guitar. There are also a few touches of spacey weirdness in songs like Molten Lava and Psi-Burn that seem a slight nod to their earlier space rock days, but for the most part, Space Probe Taurus is all about the riffing and the rocking. Great cruisin' down the highway kind of music!"

Jeff Fitzgerald

VS Webzine (FRA - website) September 25th 2008

"OOhh! un groupe de Stoner/Classic rock scandinave pour changer (la Suède en question) Yeahhh ! Une belle mention "Acid Fuzz Rock" tamponne la pochette promo, ce qui m'allèche fortement vu ma gourmandise de ce genre de friandises : Gluecifer, The Hellacopters, Sparzanza, Honcho, Rite, Generous Maria, Mustasch et j'en passe...

Space Probe Taurus (SPT) nous livre donc un énième album depuis leur formation en 1993 (sous le nom de Snake Machine), après avoir sorti nombre de démos, de EP, de bandes-originales de film série B (voire C), le tout assez discrètement dans leur pays d'origine. Leur moment de gloire viendra avec la participation au film de Richard R. Anasky, "Actress Apocalypse", une sorte de documentaire psychérotic foutage de gueule (une fusion entre Russ Meyer et John Waters).
Le groupe distille un stoner rock classique influencé par Blue Cheer, Mudhoney, MC5 et les films de bikers des années 60 ! Au premier abord cela peut paraître surfait, déjà vu et revu mais SPT va en bluffer plus d'un !!

Dès les premières notes de "Dig the lizard" on sait qu'on va avoir du vintage bien seventies sans prise de gueule dans les esgourdes et cela se confirme avec "Buzz Amp", "Molten Lava" et les 8 pistes suivantes. Du stoner/classic rock bien psyché et fuzz, avec un sens des mélodies et du riff qui n'aurait rien à envier aux Hellacopters. Une rencontre entre le stoner enfumé et narcotique de Nebula et le punk'n'roll/classique rock des maîtres suédois. Du groove imparable (surtout grâce à la basse bandante de Enberg), des solos fuzzy 70's, une énergie et une chaleur vintage emportent ce "Space Probe Taurus" au-dessus des prétendants actuels au trône de "Rois du rock" laissé par la bande à Andersson. Le tout mené de mains de maîtres par le chanteur/gratteux, Sjöberg, qui survole magistralement le disque en faisant passer Dave Wyndorf de Monster Magnet ou Biff Malibu de Gluecifer pour des sexagénaires. "Levitation" est un vrai petit bijou de stoner psyché qui devrait être enseigné dans toutes les écoles en fumant un méga joint de weed.
43 minutes qui passent en 20 minutes (ne cherchez pas à comprendre) !!
Honnêtement je ne vois pas comment avoir plus de plaisir et de jouissance en écoutant une galette rock, à part en mettant une chatte en plastoque à la place du trou sur la galette (et en se faisant une cure de suppositoire à base de lampes d'amplis Orange pour tous les métalleux trop rigides)...

SPT n'invente rien dans le style c'est sûr, mais ils le font tellement bien que ça en devient gênant pour tous ceux qui pensaient faire du rock'n'roll. Le disque parfait pour voler une bécane, se faire la malle sur la route, lunettes noires vissées sur le pif avec un bon buzz des familles dans le bec !!

Tiendrait-on là le digne successeur des HELLA ??! Avec cet album tout en substances rockifuges groovifères j'en ai bien l'impression."

Google Translate says:
"Oohh! a group of Stoner / Classic Scandinavian rock to change (Sweden in question) Yeahhh! A beautiful word "Fuzz Acid Rock" buffers the promo pouch, which tempts me greatly seen my greed that kind of sweets: Gluecifer, The Hellacopters, Sparzanza, Honcho, Rite, Generous Maria, Mustasch and so on .. .

Space Probe Taurus (SPT) therefore gives us yet another album since their formation in 1993 (under the name Snake Machine), having released many demos, EP, tape-original film series B (or C), the all pretty quietly in their country of origin. Their moment of glory will come with participation in the film by Richard R. Anasky "Actress Apocalypse", a kind of documentary psychérotic foutage of mouth (a merger of Russ Meyer and John Waters).
The group exudes a stoner classic rock influenced by Blue Cheer, Mudhoney, MC5 and biker movies of the 60s! At first glance this may seem overrated, but already seen and reviewed SPT will bluff more than one !!

From the first notes of "Dig the lizard" we know we will have good vintage seventies mouth without taking in esgourdes and this is confirmed with "Buzz Amp", "Molten Lava" and the following 8 tracks. Stoner / classic rock well psyche and fuzz, with a sense of melody and riff that has nothing to envy the Hellacopters. A meeting between the smoky stoner narcotic Nebula and punk'n'roll / classic rock Swedish masters. The unstoppable groove (mostly due to low horny by Enberg), solos fuzzy 70's, an energy and warmth vintage outweigh the "Space Probe Taurus" of the current contenders over the throne of "Rock Kings" left by the band Andersson. All led the hands of masters by singer / guitarist, Sjöberg, flying over the disk masterfully by passing Dave Wyndorf of Monster Magnet or Biff Malibu Gluecifer for sixties. "Levitation" is a jewel in stoner psyche that should be taught in all schools mega smoking a joint weed.
43 minutes that pass in 20 minutes (do not try to understand) !!
I honestly do not see how to have more fun and enjoyment while listening to a rock slab, except by putting a cat in plasticky instead of the hole on the wafer (and by being a cure suppository base lamps of Orange amps for all metalheads too rigid) ...

SPT invents nothing in style for sure, but they do it so well that it becomes annoying for all those who thought to rock'n'roll. The disc perfect for stealing a bike, get the mail on the road, dark glasses screwed on the conk with a good buzz families in the beak !!

There would be a worthy successor to HELLA ??! With this album while rockifuges groovifères substances I have a feeling."

Layne

Blogcritics (website) December 5th 2008

"Having misspent much of my youth watching gigs by the great, good, and the not so good, what's left of my memory can, like the music of the time, become distorted.

However, when I played the Space Probe Taurus debut album, at decibels loud enough to bend spoons, some of it finally returned. Within the first few seconds of this album I was transported back to those days with more clarity than I would have had at the time.

It took me back to an age when seeing a band meant a light show that consisted of an oil lamp with a torch shining through it in venues that were often impossibly crowded. There was sweat dripping from low ceilings, no security, and stacks of buzzing primitive amps. If we were lucky there was the occasional girl who got into the music and out of everything else. Altogether different times, or so I thought.

Space Probe Taurus was formed in Sweden back in 1992. Originally called Snake Machine, they changed their name in 1997. This coincided with the band dropping their trademark epic space-rock jams and moving towards something more direct.

A brief history sees that there have been the usual line-up changes along the way. However, the backbone of the band has always been drummer Sundler and lead singer, and guitarist, Sjoberg. This current line-up has been together since 2003 and includes the additional guitar of Eronen, and bass player Enberg.

The question is why did it take over three years for someone to release it? The label who finally has is Belgium's, Buzzville Records. Depending on which bit of Belgium they come from, merci, dank u, and bedankt. It's a job very well done.

So here we are at the end of 2008 listening to an album recorded between 2004 and 2005. As you have probably gathered from the opening paragraphs to this review it doesn't matter in the slightest. Who cares? Rock with this energy will never go past its sell by date, not for me, and not for countless others.

Opening with "Dig The Lizard", a track so infectious that I just kept hitting the replay button, the album is pure ear melting energy. The aptly named "Buzz Amp" works on every distorted level. "Molten Lava", kicks off following a surprisingly easy start.

"Barefoot", like many tracks here, is exquisitely drenched in fuzz. Now that might sound like a contradiction in terms, but believe me it is nothing of the sort. This is a fast ride to planet fuzz itself. A full on biker hog meltdown, all drenched in dollops of acid space rock.
Any lingering doubts are totally obliterated by "Psi-Burn" and "Electric Explosion". The latter is aptly named. This will have you gleefully smashing your own windows if you are not careful.

"Snakebirth", "Supersonic Woman", and "Levitation", not the Hawkwind version, are a highly effective fusion of everything that has been before. "Gravity Rush" ends the album with some juicily spaced out riffs. The bonus track "She Wolf Baby" is there just in case you actually have any energy left.

This isn't anything new. It isn't anything necessarily old either. What it is, is a dynamic, fuzz pedal through the floor, rock album done extremely well.

The cover should advise you not to operate machinery or drive after taking a ride with Space Probe Taurus. You have been warned. Me? I'm off to grab a sedative or six.

Have a look, and have a listen on their MySpace Page or by dropping in on their official website."

Jeff Perkins

The Sleeping Shaman (website) December 27th 2008

"Way back in the mists of time before Dave Wyndorf discovered biker chic, arena rock and, more recently, the key to the pie cupboard, Monster Magnet released "Spine of God". This was a proto stoner classic that blended the avant punk fury of MC5 and the Stooges, Mudhoney's psych grunge, Hawkwind's tripped out sonic attack and Sabbath's prime riffery. Listening to this offering from Space Probe Taurus you'd be forgiven for thinking you had stumbled across the tapes for some long lost follow up to "Spine of God" as these buzzed up Swedes have pretty much nailed the early Monster Magnet sound.

Now, you may be thinking "if it sounds like Monster Magnet I'll just go and listen to them instead". Yeah, maybe you're right, but taken on its own terms this album is a bit of a speedball classic. Each track bristles with an energy and excitement that so much "stoner" rock fails to match these days. In fact this is a relentless and remorseless assault from start to finish, each song hitting a peak flow of amphetamine fuelled grit. The only respite here are the brief pauses between songs to catch your breath before the next wave of rock and roll mentalism breaks overhead. Slow is not a word these guys seem to know, they must each lose half a stone when they play live and just listening to this album in the privacy of your own home is enough to break a sweat. There isn't much to distinguish one track from another here as each follows a similar path but if the intent is to slay the senses with a barrage of buzzed up riffs and psychotic drumming then job done. Drugs may not be good for you but they sure do inspire some great music!!!

SPT have created an album of such intensity that it could have come wrecking out of Detroit in 1969 instead of the land of the midnight sun today. Buzzville Records may not sign the most original bands on the planet by holy fuck do they make up for it by uncovering some righteous rock and roll. Put your doom and sludge albums in a darkened cupboard for a couple of days and get yourself some psyched up, souled out, fuzzball punked up unholy vibes…it's good for the mind, body and soul…hallelujah brothers and sisters!!!"

Ollie Stygall

HardHarderHeavy.de (GER - website) February 2nd 2009

"Bevor die vier Schweden sich dem aktuellen Stil des, na ja umschreiben wir es mal als Acid Rock mit jeder Menge Fuzzer, waren die ultralangen Instrumentals angesagt. Damals 1992 unter dem Namen Snake Machine gegründet, konnte einer der Psychedelic oder spacigen Rocksongs auch schon Mal knappe zehn Minuten dauern. Ungefähr zur selben, als auch damals Kyuss ihren Desert Rock zu Grabe trugen, verabschiedeten sich auch die Schweden von ihrem bisherigen Stil.
Seit 1997 sind die Songs deutlich rockiger, kompakter und gesangslastiger geworden. Nicht so stark Stoner, wie Monster Magnet, aber MC5 oder The Stooges treffen es ganz gut. Alte Biker-Filme aus den 60ern sollen außerdem ebenfalls als Inspirationsquelle gedient haben und das bemerkten offenbar auch die B-Movie-Regisseure, die sich Space Probe Taurus gerne für solche Filme als Soundtrack-Lieferanten ins Boot holen.

Bereits der Opener "Dig the Lizard" zeigt viele der Trademarks des schwedischen Quartetts. Der flotte rockige Grundtakt mit variablen Drum-Parts wird von oft bis an die Grenze verzerrter Gitarren begleitet und mit stimmkräftigen Frontmann-Einsatz veredelt, dessen Stimme zum Stil der Band passt, wie der berühmte Arsch auf den Eimer.
"Buzz Amp" setzt nahezu nahtlos den Opener fort, bevor mit "Molten Lava" die ersten spacigen Elemente Einzug halten. Diese werden jedoch schnell von einem recht treibenden Rockrhythmus abgelöst und der Refrain ist nahezu prädestiniert zum mitgröhlen.
Nein Leute, das ist nicht Hawkwind, auch wenn "Barefoot"durchaus mit einigen fossilen Elementen glänzt. In jedem Fall ist der spacige Song ideal zum Abfeiern geeignet und könnte vermutlich sogar David Wyndorf von den anfangs zitierten Monster Magnet gefallen.
"Psi-Burn" glänzt mit dominantem Bass-Spiel und jeder Menge Druck nach vorne. Die leicht verzerrte Stimme des Sängers ist diesmal fast markanter als die sonst so verzerrten Gitarren. Und wer hier beim Gitarren-Solo nicht mindestens zur Luftgitarre greift, dem ist nicht zu helfen.
Das bisherige Niveau bleibt erfreulicherweise bis zum Schluss erhalten. Auch wenn sich viele Songs schon alleine durch den Gitarrensound ähneln, so sind es immer wieder einzelne markante Strophen, die für Abwechslung sorgen. Und ist es Mal weder Mikromann noch Gitarrist, die für prägnanten Stoff sorgen, so springt der Drummer in die Bresche.
Für "Levitation" wird nochmal kräftig die Groove-Maschine angeheizt, bevor sich das Album mit "Gravity Rush"standesgemäß, aber fast etwas zu zeitig verabschiedet.
Schade, dass der Bonus-Track "She-Wolf Baby!"qualitätsmäßig etwas schwächelt und mit seinem Garage-Sound den Druck nicht voll herüber bringen kann, denn dann wäre es wirklich das krönende i-Tüpfelchen gewesen.

Fazit: Weltbewegende neue Klangwelten haben Space Probe Taurus sicherlich nicht beschritten, jedoch können sie handwerklich überzeugen und bieten bei aller Konkurrenz in diesem Metier eine gewisse Eigenständigkeit. Angesichts der Inspirationen aus der Biker-Szene, passen die Songs natürlich auch prima zum Abreiten auf dem Asphalt bei gemütlichem Tempo und scharfer Braut auf dem Sozius.
Wer sich von den älteren Semestern unter uns immer wieder gerne in die Jugendzeit der "good old" 60er und 70er entführen lässt, der bekommt hier ein herrlich "frisch" klingendes Retro-Scheibchen.

Anspieltipps:
"Dig the Lizard", "Barefoot", "Psi-Burn" und "Levitation".

Tipp:
Wer MC5 oder Blue Cheer im Regal stehen hat, sollte hier genauer hinhören. Aber auch Fans verwandter Genres und Bands wie Kyuss und Monster Magnet könnten an den Schweden Gefallen finden."

Google Translate says:
"Before the four Swedes the current style of, well, we rewrite it sometimes as acid rock with lots of fuzzer, were the ultra long instrumentals hip. At the time, established in 1992 under the name Snake Machine, one of the psychedelic or spacey rock songs could take, less than ten minutes, even just once. At about the same, and then Kyuss wore their desert rock to the grave, also the Swedes from their previous style adopted.
Since 1997, the songs are much more rock, more compact and vocal-heavy. Not so much Stoner, like Monster Magnet, but MC5 and The Stooges hit it quite well. Old biker movies from the 60's will also have also served as a source of inspiration and apparently also noticed the B-movie directors, the Space Probe Taurus will pick up for such films as a soundtrack suppliers on board.

Already the opener "Dig the Lizard" shows many of the trademarks of the Swedish quartet. The fleet rocking base clock with variable drum parts will be accompanied by often to the limit of distorted guitars and refined with powerful voices frontman use a voice that fits the style of the band, like the famous ass on the bucket.
"Buzz Amp" is almost seamlessly continues the opener before chat with "Molten Lava" the first spacey elements collection. However, these are replaced quickly by a rather driving rock rhythms and the chorus is almost predestined to sing along.
No folks, this is not Hawkwind, even if "Barefoot" absolutely shines with some fossil elements. In any case, the spacey song is perfect to party and could probably even like David Wyndorf of the initially cited Monster Magnet.
"Psi-Burn" shines with a dominant bass playing and a lot of pressure to the front. The slightly distorted voice of the singer is almost time prominent than the otherwise distorted guitars. And who does not work here in the guitar solo at least for air guitar, is not going to help.
The current level remains happily until the end. Even though many songs similar to already alone by the guitar sound, so there are always some striking verses that provide variety. And it is time neither man nor micro guitarist that provide concise material, the drummer steps into the breach.
For "Levitation" the groove machine is again strongly fueled before the album "Gravity Rush" adopted befitting, but almost a little too early.
Pity the bonus track "She-Wolf Baby!" qualitatively somewhat weakens and his garage sound pressure can not fully bring across, because then it would really have been the crowning icing on the cake.

Conclusion: Earthmoving new sound worlds Space Probe Taurus certainly not coming through, but they can convince craftsmanship and provide for all competitors in this business a certain independence. Given the inspiration from the biker scene, the songs can of course also great for breaking in on the tarmac at a leisurely pace and sharp bride on the pillion.
Who among us always like to be seduced by the youth of the "good old" 60s and 70s of the previous semesters, which gets a gorgeous "fresh" sounding retro discs here.

Playing tips:
"Dig the Lizard", "Barefoot", "Psi-Burn" and "Levitation".

Tip:
Who are MC5 or Blue Cheer on the shelf should listen more closely here. However fans of related genres and bands like Kyuss and Monster Magnet could find on the Swedes favor."

J.G.